If your business has a brick and mortar location where you can meet customers, it's important that your customers know how to find you. Even businesses without physical locations that work in a specific area can benefit from this. Whether your business is a bar, restaurant, medical practice, plumber, law office, locksmith, or grocery store, you need to improve your local SEO.
Even better, people who search for local information are usually ready to make a purchase or use a service. Local SEO is also designed to benefit small businesses rather than large businesses, giving you a leg up in search rankings.
Local SEO and Google Snack Packs
Local SEO involves optimizing your website to reach people searching for businesses that are close to them. Taking the time to improve your local SEO is what will allow your business to show up in Google Maps or search results for something like 'bakery near me'. In fact, 46% of Google searches come from users searching for local information.
Improving your local SEO could even land you a spot in Google's Snack Pack for searches related to your business. Not familiar with the Google Snack Pack? Also known as the "Local 3 Pack" or "Google 3 Pack", this is the area that shows up on the first page of results for local searches made through Google. It shows three local businesses that Google has determined are most relevant to the search. 
For example, when you Google "bookstore San Diego CA", these are the top 3 results.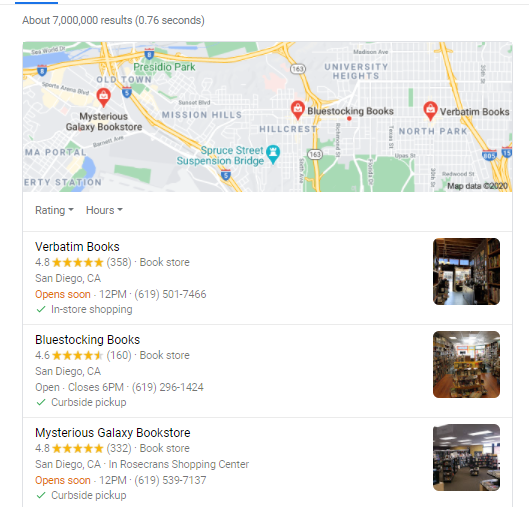 Google has decided that these bookstores are the most relevant for this search, so they're displayed prominently. With some time, effort, and following these tips, your business can get into one of these spots as well.  
How to Boost Your Local SEO
1. Google My Business
Your Google My Business account is the best place to start optimizing your local SEO. Simply improving your Google My Business listing will allow you to rank higher on Google Maps and local Google Search results. A strong Google My Business listing could even lead to Google placing your business in the sidebar of local search results.
Here's how to get started with your Google My Business listing:
Start by creating a

Google My Business account

that will be associated with your Google My Business listing and follow Google's process to verify ownership of your business.

Add your business's logo, hours of operation, information about your products or services, and relevant photos to your listing.

Publish posts to your profile with updates about your business like sales, events, and new products or services.

Once your listing is set up, begin encouraging your customers to review your business through Google and respond to these reviews in a personalized and sincere manner. You may even want to specify the location of your business in these responses to further boost your local SEO.
2. Optimize for Mobile

Just about everyone has a smartphone nowadays and it's become natural to use it for everything. Because of this, you need to assume that most people will be viewing your website from a mobile device rather than a desktop computer or even a laptop. In fact, a 2018 study found that 82% of its participants used mobile devices for local searches and it's safe to assume that this has only increased.
This connects to user experience; if most people are viewing your website from a mobile device but your website isn't optimized for mobile, visitors will have a poor experience, impacting your local SEO. Your website should be optimized so that visitors on mobile devices can easily navigate it and find the information they're looking for. 
So how do you optimize your website for mobile? The following are a few examples, but mobile optimization involves much more than just the following.
Add click-to-call buttons to your website and Google My Business listing.

Make sure your website's load time is no longer than three seconds.

Use large, easy to read fonts.

Ensure that your pages don't look cluttered on small mobile device screens.
3. Inbound links
Inbound links are crucial to SEO strategy in general, which means they're necessary for improving your local SEO as well. These links show search engines that your business is an authority in your industry, boosting your legitimacy and domain authority. As if that weren't reason enough, quality inbound links are one of the most important factors influencing your local search ranking and snack pack results. Sponsorships, partnerships, guest blogging, and scholarships are great ways to get inbound links.
Connect with contacts you already know that may provide you with inbound links, like your local Chamber of Commerce, business improvement districts, licensing bureaus, trade associations, vendors, and other partners. You may also want to sponsor or host a community event that could connect you with influencers or prominent members of your industry.
Guest blogging is another tactic you may want to try. Connect with businesses related to your industry and located in the same area as you, and write an article for their website. Not only will this gain you inbound links, but this will also position you as a thought leader. 
Featuring a scholarship for a local school can gain you inbound links as well and .edu links are some of the strongest inbound links you can earn to boost domain authority. Just make sure the scholarship is relevant to the industry you work in.
4. Add Location Pages to Your Website

Location pages are a great way to improve your local SEO if your business has more than one location in an area. Just keep in mind that you'll need to make unique content for each location page. You can do this if your business only has one location as well, you just won't need to create multiple pages. Your location pages should include the following:
Business hours.

Your business's name, physical address, and phone number.

A description of your business that's unique for each location.

Customer reviews or testimonials.

Up-to-date information about promotions or special offers.

Parking or transit information.

A Google Maps attachment on each page.
You can include further relevant information as well, this list is just the bare minimum of what should be included in your location pages.
5. Get Plenty of Reviews
Customer reviews are very important factors that impact your local search and snack pack rankings. Getting a lot of legitimate and positive reviews not only improves your local search visibility but also betters your reputation. 
When asking customers to review your business it helps to direct them to your Google My Business listing, but reviews on your website, yelp and other consumer directories, and social media will improve your local SEO as well. It's best to have reviews spread across all of these options.
RESULTS ARE VITAL

Now that you know how to improve your local SEO, it's time to get started and get noticed in your local search rankings! But if your team doesn't have the capacity to take on local SEO optimization or you just need help, Vital Digital is here to help! 
Vital Digital provides digital marketing services including, but not limited to content marketing, search engine optimization, and website development. We also provide HubSpot, SharpSpring, and Zapier consulting to help you automate your marketing and function as efficiently as possible. Request a free quote today and let us know how we can help!